Working Holiday Visa
Visa
Gain a rewarding work experience in the Emerald Isle!

Intern in Ireland
The Internship in Ireland program allows Canadians to gain professional experience and to explore different career paths related to their fields of study by interning at a company in Ireland. An internship abroad like this offers a unique opportunity to acquire professional experience and to enhance the skills and knowledge in various fields. Participants will experience cross-cultural exchange in everyday life in Ireland.
The Highlights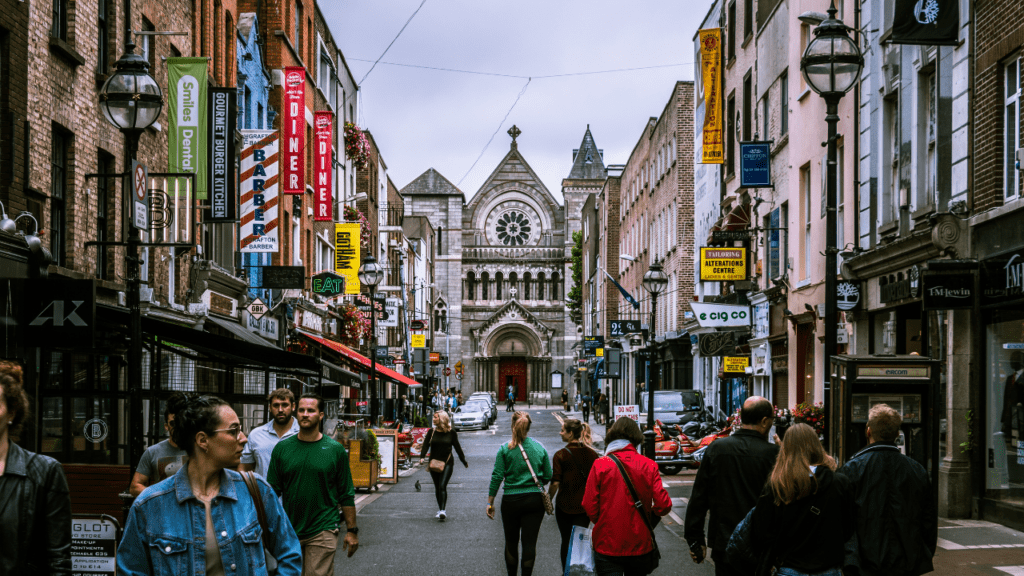 Trainees can be placed in private, public, or semi-public companies, non-profit organizations, or any type of company, either Irish or international. Host-employers can be small, mid-size or large multinational companies.
All placements are individually organized according to the preferences, skills, and requirements of the applicant.
Jobs are offered in hospitality, administration, and marketing.
Placements are a minimum of 3 months and up to 12 months.
Internship placements are available mainly in Galway.
Placements are usually full-time positions (35-40 hours) and are fully paid with at least minimum wage.
The first accommodation can be arranged before the departure with additional cost.
Program includes
PROGRAM INCLUDES:
Occupational Categories: Hospitality, Administration, and Marketing
Access to a pre-arrival detailed orientation website
Bus Card: "Leap Cards" are available to source in Galway and GCI will support participants with the information required to apply for the card. A TFI Leap Card is a prepaid travel card that is the easiest way to pay your fare on public transport around Ireland. You can buy a Leap Card in over 80 locations, including near the school.
Daily social activities (e.g. watersports, pub night, walking tour, bowling, day trip, and more! *Additional fees may apply for events.)
OCCUPATIONAL CATEGORIES:
Hospitality
Administration
Marketing
OPTIONAL SERVICES:
INDIVIDUAL AIRPORT TRANSFER
Bus ticket from Dublin Airport to Galway Coach Station: from €40 one way
Taxi transfer Galway Coach Station to accommodation: from €35 one way
Private transfer Dublin / Cork Airport: from €200 one way
ACCOMMODATION
Host family accommodation from €275/week single room (half board Monday to Friday, full board on the weekends)
RESIDENCE
Residential accommodation from €280/week (self-catering)
CV and cover letter advice and editing
Up to two interviews with companies in Ireland
Pre-arrival internship placement
Pre-arrival e-learning orientation video providing comprehensive information about living and working in Ireland
Assistance in applying for the Working Holiday Visa
Social activities such as excursions in Galway
24/7 emergency hotline
Leap card (bus card)
What's not included:
Working Holiday Visa fee
GNIB Registration Card fee (on arrival in Ireland)
Airfare and transport to internship placement
Travel medical insurance (mandatory)
Personal expenses
TO BE ELIGIBLE FOR THE PROGRAM, YOU MUST:
Be a Canadian citizen residing in Canada
Have a Canadian passport valid for at least 30 months
Be aged between 18 to 35
Have a clean police record
Have never entered Ireland on a Working Holiday visa
Show a bank statement with minimum of $2,500 CAD in available funds
Purchase travel medical insurance for at least 12 months
Not have any dependent children
Note: With the Working Holiday visa, you are allowed to stay in Ireland for up to 24 months. You will have to register with the Garda National Immigration Bureau (GNIB) and will be issued a Registration Card on payment of the appropriate fee; the current fee is €300 (this is subject to change).
Be a Canadian citizen residing in Canada
Have a valid Canadian passport
Be between the ages of 18 and 35 (and must not turn 36 before Ireland issues you your Working Holiday visa)
A clean police record
Have never previously entered Ireland on a Working Holiday visa
Show a bank statement that certifies you have access to at least $2,500 CAD in available funds
Travel medical insurance for at least 12 months
Not have any dependent children