Free Guide to Work & Travel in the USA for Canadians 
Download a FREE Guide to planning and having an amazing working holiday in the USA. This comprehensive guide, created by our knowledgeable travel advisers, is tailored for IEC-qualified Canadians and provides essential information on the entire process. Learn how to apply for your visa, get insider information on how to land a great job, find accommodation about where to travel and get answers to all other questions you may have.  
Capital City
Washington, D.C.
Currency
US Dollar (USD) 
Time Zone
GMT (-4 to -10; varies by region) 
Population
339.9 million
Transportation
buses, trains, rail, and domestic flights
Area
9.834 million km²
Overview of the J-1 Working Holiday Visa in the USA 
The J-1 visa is a non-immigrant visa program administered by the US Department of State, designed to facilitate cultural exchange and international cooperation. It allows foreign nationals to come to the United States for various purposes, including work, study, research, and cultural exchange programs. The J-1 work visa program promotes cross-cultural understanding by providing opportunities for participants to experience American society and share their own culture with Americans.  
The J-1 visa has different categories, such as J-1 Exchange Visitor Program, J-1 Summer Work Travel Program, J-1 Internship and Trainee Program, and more. Each category has specific eligibility requirements and program objectives. Participants in the J-1 visa program are sponsored by approved organizations, educational institutions, or government agencies responsible for overseeing their program and ensuring compliance with regulations.  
The duration of a J-1 visa varies based on the specific category and program, ranging from a few weeks to several years. Upon completion of their program, J-1 work visa holders have a grace period to travel within the U.S. before returning to their home country. The J-1 visa program plays a significant role in fostering international collaboration, and cultural exchange, and creating lifelong connections between people from different nations.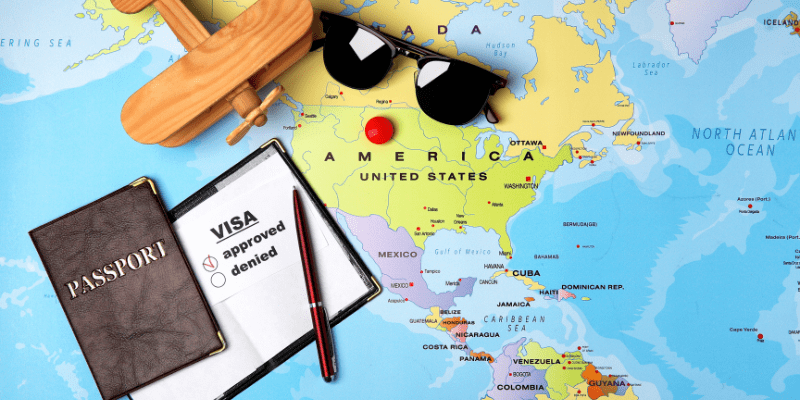 Eligibility Requirements for J-1 Visa Qualified Canadians 

 
We at GO International work with our partner in the USA to place eligible Canadians there as Camp Counselors. To be eligible, Canadians must meet specific eligibility criteria for the application process:  
You are sufficiently proficient in the English language to supervise and interact with American youth. 

 

You must be a post-secondary student, youth worker, teacher or individual with specialized skills. 

 

You must be at least 18 years old by June 1. 

 

You are available to work for at least 9 weeks from May/June to August. 

You enjoy working and being around children. 

 

You are outgoing, cheerful, flexible, and reliable. 

 
Note: You will be required to pass an interview with one of our staff members before being accepted into the program.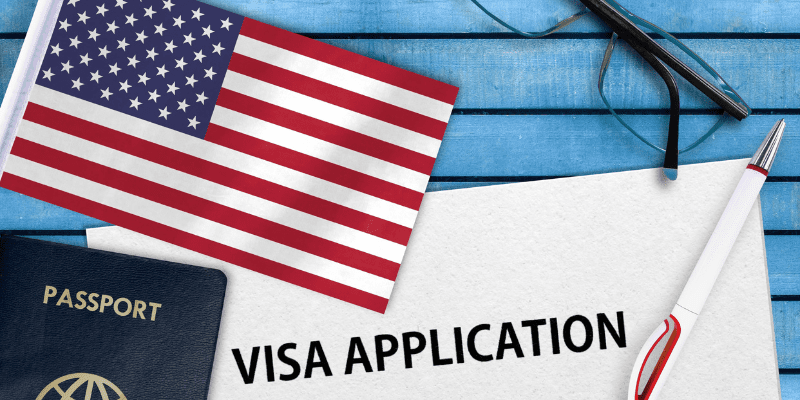 Navigating the J-1 Visa Process 
Your journey to the US begins with understanding the visa process. Here is a guide to your visa application to allow an easy transition from Canada to the USA. 
Step 1: Document Preparation 
The first step in the process is gathering the necessary documents. This includes:  
DS-2019, Certificate of Eligibility for Exchange Visitor Status: A SEVIS-generated form, DS-2019 is issued by the designated Exchange Visitor Program (EVP) sponsor once you have been accepted into the program. 

 
DS-160 Confirmation Page: The DS-160 is the Nonimmigrant Visa Electronic Application form that must be completed online. Once filled out, the confirmation page with a barcode will have to be printed and kept for your records. Visit the

DS-160 website

to learn more. 

 

A Canadian passport valid for travel to the US and with a validity date at least six months beyond the applicant's intended period of stay in the US (unless

country specific agreements

provide exemptions). 

 

SEVIS Fee Receipt: The SEVIS (Student and Exchange Visitor Information System) fee must be paid before your visa interview. 

 

Visa Application Fee: Pay the visa application fee, which is a separate fee from the SEVIS fee. Check the

US embassy or consulate's website

for more information. 

 

One (1) 2×2 photograph: See the required photo format explained in

photograph requirements

. 

 
 Applicants must demonstrate to the consular officer that they have binding ties to a residence in a foreign country which they have no intention of abandoning and that they are coming to the U.S. for a temporary period. It is impossible to specify the exact form the evidence should take since applicants' circumstances vary greatly.  
Step 2: Obtain Program Acceptance, Pay Fees, and Apply Online 
Once you find a suitable J-1 program, apply and gain acceptance from the program sponsor. They will provide the necessary documents, such as the DS-2019 form, which you'll need to proceed with your visa application.  
Before applying for the J-1 visa, you must pay the SEVIS Fee, as it is a mandatory part of the application process. Check the US Immigration and Customs Enforcement website for the exact amount.  
Complete the DS-160 Form, which is the Nonimmigrant Visa Application, and submit it online. This form collects information about your background, the purpose of travel, and other details required for the visa application.  
Step 3: Schedule a Visa Interview
After completing the DS-160 form, schedule an appointment for a visa interview at the nearest US embassy or consulate in Canada. Be prepared to provide documentation that supports your eligibility for the J-1 Visa.  
On the day of the interview, arrive early and bring all required documents, including the DS-2019 form, passport, SEVIS fee receipt, financial evidence, and any supporting letters from your program sponsor.  
Step 4: Receive Visa Approval
If the consular officer approves your J-1 visa application, your passport will be stamped with the visa, allowing you to enter the US. Once in the US, adhere to the rules and regulations of your J-1 visa program, including program objectives, duration, and any other requirements set forth by your program sponsor.  
Strategizing for Your Exchange Visitor Program in the USA 
Embarking on a J-1 visa camp counselor program requires careful planning and preparation. Here are some key areas to focus on:  
Embrace Cultural Exchange: Learn about American culture and share your own cultural heritage with others. Engage in conversations and activities that promote understanding and appreciation of cultural differences.  
Engage in Camp Activities: Actively participate in camp activities and encourage campers to do the same. Embrace sports, arts, outdoor adventures, and other programs to enhance your experience and create a welcoming atmosphere for campers.  
Financial Planning: Create a budget and plan for your financial needs during your exchange program. Consider expenses such as travel, personal items, and leisure activities. Save and manage your finances wisely to ensure a stress-free and enjoyable experience while in the US.  
Explore local culture: Take time to explore the local culture and attractions outside of camp. Visit nearby cities, museums, parks, and historical sites to gain a deeper understanding of American culture and history.  
Seek Growth and Impact: Seek feedback to improve as a counselor and as an individual. Embrace challenges with resilience and leave a lasting impact on campers and fellow counselors through cultural exchange and inspiration.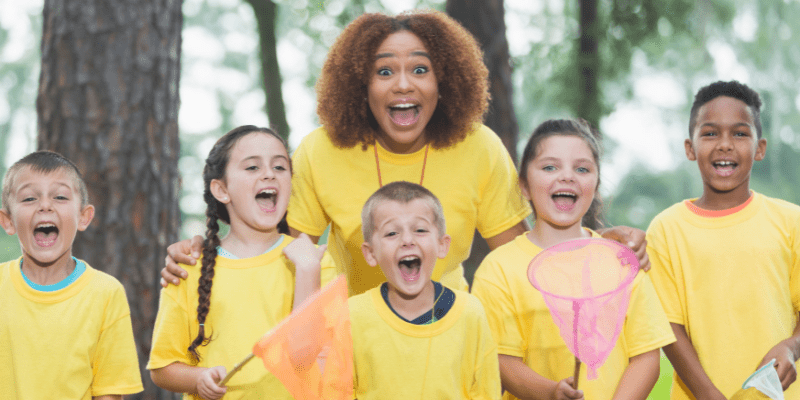 Embracing the American Culture and Lifestyle 
Embracing the American culture and lifestyle is an enriching and rewarding aspect of the Exchange Visitor Program experience. To fully immerse yourself in the American way of life, start by engaging with locals and participating in community events or gatherings. Strike up conversations, ask questions, and be genuinely interested in learning about their culture, traditions, and daily life. Engaging with Americans will help you gain a deeper understanding of their customs and foster meaningful connections.  
Another way to embrace the American culture is by trying local cuisine. Explore the diverse culinary scene in the US, sample regional dishes, visit local eateries, and be open to trying new flavors. Food is an integral part of any culture, and experiencing American cuisine will enhance your cultural immersion.  
Lastly, attend cultural events, such as festivals, art exhibitions, music concerts, and other events in your area. Participating in these events will expose you to different aspects of American culture and provide opportunities to celebrate and share your own cultural heritage. Additionally, engage in social and recreational activities that are popular among Americans, like joining sports teams, attending movie nights, or exploring outdoor adventures. By maintaining an open and respectful mindset towards the American way of life and embracing differences with an open heart, you'll create unforgettable memories, broaden your horizons, and foster lasting friendships that transcend borders during your program in the United States.  
Travel in the USA while Working 
The US offers a wealth of stunning landscapes, historical sites, and vibrant cities to explore. Here are the top five must-visit places in the US:  
New York City, New York: As the most populous city in the United States, New York City offers a vibrant and diverse cultural experience. Explore iconic landmarks like the Statue of Liberty, Times Square, Central Park, and Broadway theaters. Indulge in world-class dining, shopping, and museums, making it a must-visit destination. 

 
Grand Canyon, Arizona: A natural wonder and UNESCO World Heritage Site, the Grand Canyon is a breathtaking spectacle of layered red rock formations carved by the Colorado River. Witness the vastness of this awe-inspiring canyon from various viewpoints or take a thrilling hike into its depths. 

 
Yellowstone National Park, Wyoming, Montana, and Idaho: As the first national park in the world, Yellowstone is a geothermal wonderland with geysers, hot springs, and diverse wildlife. Experience the iconic Old Faithful eruption, witness stunning landscapes like the Grand Prismatic Spring, and encounter bison, elk, and grizzly bears in their natural habitat. 

 
San Francisco, California: Known for its picturesque beauty, San Francisco is a cultural hub on the West Coast. Enjoy the iconic Golden Gate Bridge, ride the historic cable cars, and explore vibrant neighborhoods like Chinatown and Fisherman's Wharf. Don't forget to visit Alcatraz Island for a glimpse of its intriguing history.

 
Washington, D.C.: The capital of the United States is home to numerous historical and political landmarks. Visit the White House, the U.S. Capitol, and the National Mall, where you can find iconic monuments like the Lincoln Memorial, Washington Monument, and the Vietnam Veterans Memorial.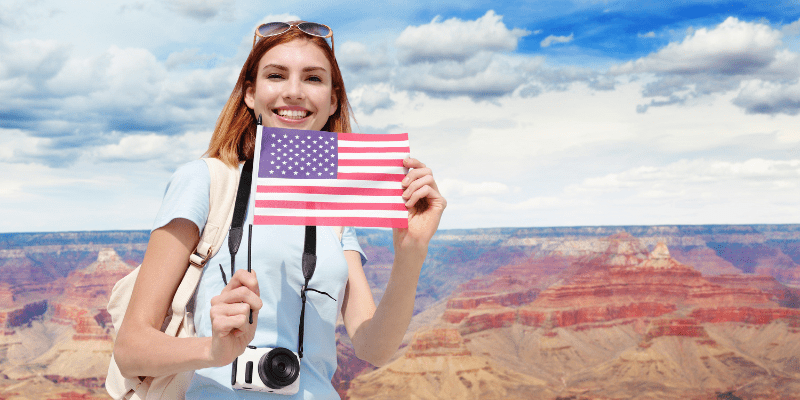 Who is eligible for a J-1 Working Holiday visa?
Eligibility for a J-1 visa depends on the specific exchange program's requirements. Participants must be sponsored by an approved organization, educational institution, or government agency and meet certain criteria, such as age, educational background, and program objective. For GO International's USA camp counselor program, the eligibility is stated in the "Eligibility Requirements for J-1 Visa Qualified Canadians" section of this page.  
How long can I stay in the USA on a J-1 Working Holiday visa?
The duration of a J-1 visa depends on the specific program and the sponsor's guidelines. It can range from a few weeks to several years. After completing the program, participants usually have a grace period to travel within the US before returning to their home country.  
Can I bring my family with me on a J-1 visa?
It depends on the program and the sponsor's guidelines. Some J-1 programs allow participants to bring their spouses and/or dependents, while others may not permit accompanying family members. Check the US Citizenship and Immigration Services website for more info.  
Can I apply for a J-1 visa on my own, or do I need a sponsor?
To obtain a J-1 visa, you must be sponsored by an approved organization or program. Sponsors play a crucial role in facilitating your exchange experience, issuing the DS-2019 form, and guiding you through the application process.  
How long does it take for a J-1 visa to be approved?
The processing time, from the application to receiving your visa, can be anywhere between 8 weeks to 13 weeks. However, keep in mind that visa interview timelines can vary and affect the total processing time.  
Can I work multiple jobs on a J-1 Working Holiday visa?
The ability to work multiple jobs on a J-1 visa depends on the program regulations and any work restrictions outlined in your DS-2019 form. Some programs permit additional employment with proper authorization, while others may not allow it.  
Can I bring my pet with me on a J-1 visa?
Bringing pets to the USA while on a J-1 visa is possible, but it involves compliance with US regulations for pet importation. This includes providing documentation of vaccinations and health certifications for your pet.  
Can I travel to other countries while on a J-1 visa?
Yes, J-1 visa holders are allowed to travel to other countries while participating in their exchange program in the USA. However, ensure that you have the required travel documents and that your DS-2019 form is signed for travel by your program sponsor.  
The J-1 visa offers a unique opportunity for exchange visitors to immerse themselves in the cultural richness of the USA. From choosing the right program to embracing American culture, this guide provides essential insights to navigate the visa process. Engaging with local communities, trying diverse cuisines, and exploring iconic landmarks enrich the exchange experience, fostering personal growth and lasting memories. As exchange visitors embrace this transformative journey, respecting program regulations, seeking support, and promoting cultural understanding contribute to a more interconnected and compassionate world.  
Embrace the adventure and cherish the moments, for the J-1 visa serves as a bridge connecting cultures, creating lasting impacts and unforgettable memories for all involved. Safe travels and a transformative exchange experience await you! We highly encourage all eligible Canadians to give serious thought to applying for the Exchange Visitor (J-1) Visa in the USA. If you or someone you know is considering an exchange visitor program in the USA, please feel free to reach out to us. We are committed to offering help and guidance in any way we can. 
Become a Summer Camp Counselor in the USA and have the time of your life! With GO International's Summer Camp Program, you will have the choice of dozens of amazing camps in the most popular regions of the US, such as California, Florida and New York. This is your chance to gain work experience in childcare or simply have a fun summer job that lets you explore another place!
We help you go places. We promise!