Every Kid should get to go to Summer Camp -

Let's make that happen!
Do you love working with children? Do you love the high energy and excitement of summer camp? Do you encourage others and go the extra mile to make someone's day special? We are looking for dedicated, caring, fun-loving people who will help make our summer medical camps a safe and magical experience for children with serious and chronic illnesses and disabilities. At Zajac Ranch for Children, we turn the impossible into possible!
Zajac Ranch's mission together with GO International is to provide a safe year-round therapeutic environment for children and families faced with chronic illnesses and disabilities. We strive to empower our campers through recreational activities while their physical safety and medical well-being is maintained. YOU, our volunteers, are an integral part of our team and help create the therapeutic environment for our campers.
Zajac Ranch is a summer camp nestled in the mountains on the beautiful Stave Lake, just an hour outside of Vancouver. Zajac Ranch offers subsidized camp weeks for children with disabilities. One week it might be for Down's Syndrome kids, next week for autism etc.
Zajac Ranch is a non-profit registered charity that already receives international volunteers and knows how to do it! Volunteers will engage in outdoor activities with kids, such as hiking swimming, canoeing, climbing, singing at a campfire… Just to name a few of our favorite summer time activities.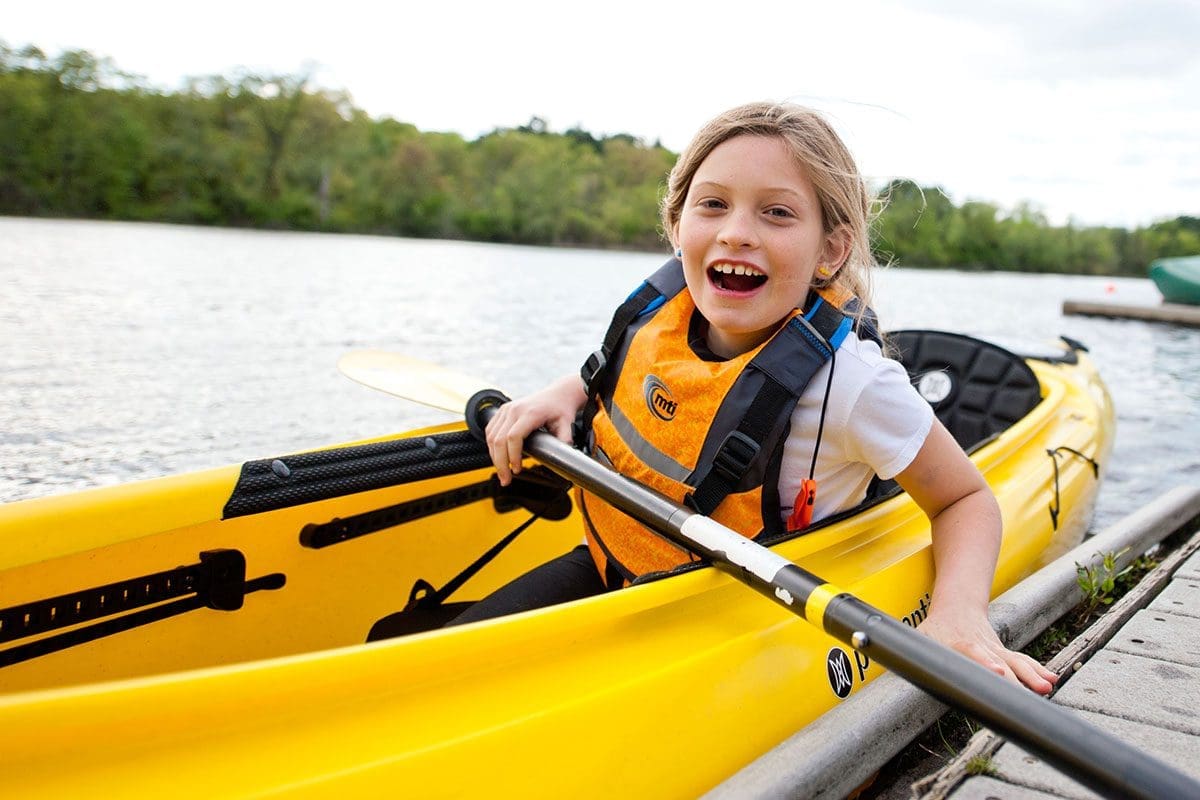 Available positions:
Below are our two sections of roles: Camp Counselors (Rangers) and Medical Volunteers.
All positions are residential (Mon-Fri) and you will have the weekends off. Staff housing is included on-site in semi-private rooms with other young staff members.
CAMP COUNSELORS
Volunteer camp counselors are paired up with staff members and are responsible for a particular group of children each week. Staff to camper ratio is 1:3 to ensure we keep a close eye on each child. As a volunteer you will have similar responsibilities to summer staff, but you will not be asked to do personal care. You will be given training prior to the beginning of camp and ongoing support during your stay at Zajac Ranch.
Daily tasks include:
Making sure that children wake up in time and get ready for their activities
Assisting the activity leaders with their group (high ropes, low ropes, archery, canoeing, kayaking, arts & crafts, drama, swimming, camp games, campfires and talent shows!)
Eat meals with the children
Getting them ready for bed
Cabin clean-up
Behavior management
Assisting and facilitating camp events (e.g. evening programs, campfires, theme days…)
ACTIVITY LEADERS
Activity leaders at Zajac Ranch make sure that each activity area is run in a safe, fun and positive way. Your role is to ensure that all campers can participate to the best of their abilities. One of the activities is for example the high ropes.
MEDICAL VOLUNTEERS
At Zajac Ranch, we cater to over 80 different diagnoses. The 24 hour medical center, The OK Corral, provides care for every camper. Staffed by volunteer medical professionals who donate their time, children can receive medical care while experiencing the joys of summer camp. The OK corral is a comfortable, fun and well equipped center.
Zajac Ranch for Children provides not only relief for children, but also for the medical staff that cares for them. Leaving typical medical institutions does amazing things for children who are dealing with life-threatening illnesses, and those around them are encouraged by their remarkable transformations.
The medical volunteers are coordinated by a medical director who goes over each case with the volunteers.
Typical tasks include:
Giving out medicals in the morning, lunch and dinner
Assisting children who may not be feeling well or who experience seizures and/or other conditions on a regular basis.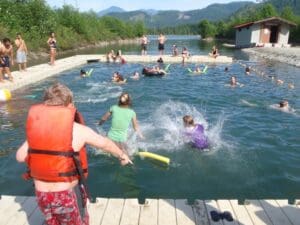 "The camp experience was one of the highlights of my nursing career. Many adolescents have never met a peer with the same condition. They feel 'different' and isolated at a time in their life when 'fitting in' is so important. At camp, these kids met others facing some of the same challenges that they do. They blossomed and the benefits of the experience lasted long after camp was done. The friendships forged at weekend camps carried over for the rest of the year."
– Kathi, Nurse, BC Children's Hospital
Placement on Zajac Ranch in preferred volunteer role
2-week role-specific training in June
Shared Staff accommodation
Chef inspired daily meals and snacks (during the week from June-August)
Access to kitchen facilities for meal preparation
Pick-up from Downtown Vancouver or Vancouver Airport and transfer to the ranch
Included training: High ropes, archery, canoe and medical training
Access to all of the camp facilities
Staff only fitness centre
Free time on the weekend to enjoy fun activities
Memories and friendships that will last a lifetime!
What's not included:
Airfare
Visa Fees
Personal Expenses
Medical Insurance
TO BE ELIGIBLE FOR THE PROGRAM:
Canadian and international volunteers welcome!
Minimum age required: 18 years
You have to be eligible to receive a tourist visa or Electronic Travel Authorization (eTA)
Clean police record
First Aid certificate
Special skills appreciated: sports, scouts, horseback riding, Lifeguard, animal care
Be open-minded, flexible, and self-motivated
Have good judgment and behave in a safe manner – on and off duty
Strong ability to work independently and as part of a team
Medical experience (e.g., in nursing or in medical school) to apply for Medical Volunteer role
* Please note that we are not able to provide a Letter of Support for your visa application to Canada. You must be able and eligible to get a visa on your own.
Zajac Ranch rests on the shores of Stave Lake in Mission, BC and includes 41 acres of beautiful wilderness and western-themed camp facilities. The ranch is conveniently located one hour east of Vancouver, BC, surrounded by mountains and provides a green oasis for campers and staff alike.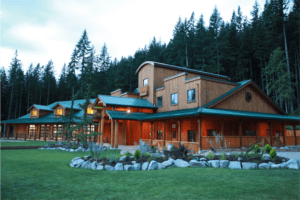 Hospitality Areas
Gymnasium
Amphitheater
Equestrian Center
Swimming Pool
Climbing Wall
Canoeing and Kayaking
Archery Area
High and Low Ropes
Petting Zoo
Fixed schedule: June – August (10 weeks while camp is in session)
Volunteers can also arrive in April or May, but have to commit for the rest of the season.
Volunteers usually work 5 days a week from Monday through Friday with the weekend off.
Zajac Ranch is located in Mission, BC at Stave Lake. It takes approximately 1.5 hours by car from Vancouver to get to the ranch.
Volunteers will be picked up either in Downtown Vancouver or at Vancouver airport. There is no public transit that goes directly to the ranch.
Staff accommodation at Zajac Ranch is included in the program fees and consists of a shared dorm-style room with private bathroom, shared kitchen facilities and common area. The volunteers are allowed to use all ranch facilities during their free time, such as the staff-only gym, the swimming pool and lake access.
During camp season (June-August) meals are provided by a chef in the cafeteria from Monday-Friday. Meals are usually not included on the weekends and from April-May, but the volunteers are able to join grocery runs and use the kitchen facilities.