14-90 days (visa free), 2-12 months (WH)
Duration
Tourist Visa, Youth Mobility Visa
Visa
Life on a Farm in Germany

Your low-cost chance to explore the beauty of Germany's countryside!
Have you ever wanted to travel to Germany and gain work experience while exploring the beautiful sights and fascinating German culture without breaking the bank? If you said "Yes!", then this is the program for you!
Moreover, our Farm Work program offers a low-cost agriculture internship on a German farm (Bauernhof). In exchange for work, you'll get free lodging, board, and a chance to experience the rural work ethic and culture in Germany. As a participant, you will be a great helping hand to a local farmer, guaranteed.
THE HIGHLIGHTS:
You will be placed on a German farm and receive board and lodging in exchange for your work.
As a Canadian citizen, you are allowed to stay in the European Union visa free for up to 90 days.
You can combine your Farm Work Internship with the Germany Working Holiday Program to extend your stay in Germany.
You can also combine your Farm Work Internship with other Working Holiday programs in Europe.
Moreover, if your internship is required by your university, please let us know your requirements and we will do our best to arrange it accordingly.
All placements are possible in English; no German skills required.
No additional qualifications needed.
Minimum duration 2 weeks, maximum 90 days (visa free) and 12 months (with Working Holiday visa)
Accommodation is usually available on the farm, if not, it will be provided by a host family nearby.
Transportation to the farm is not included, Instead, you will be picked up by your farm co-workers at the nearest bus or train station.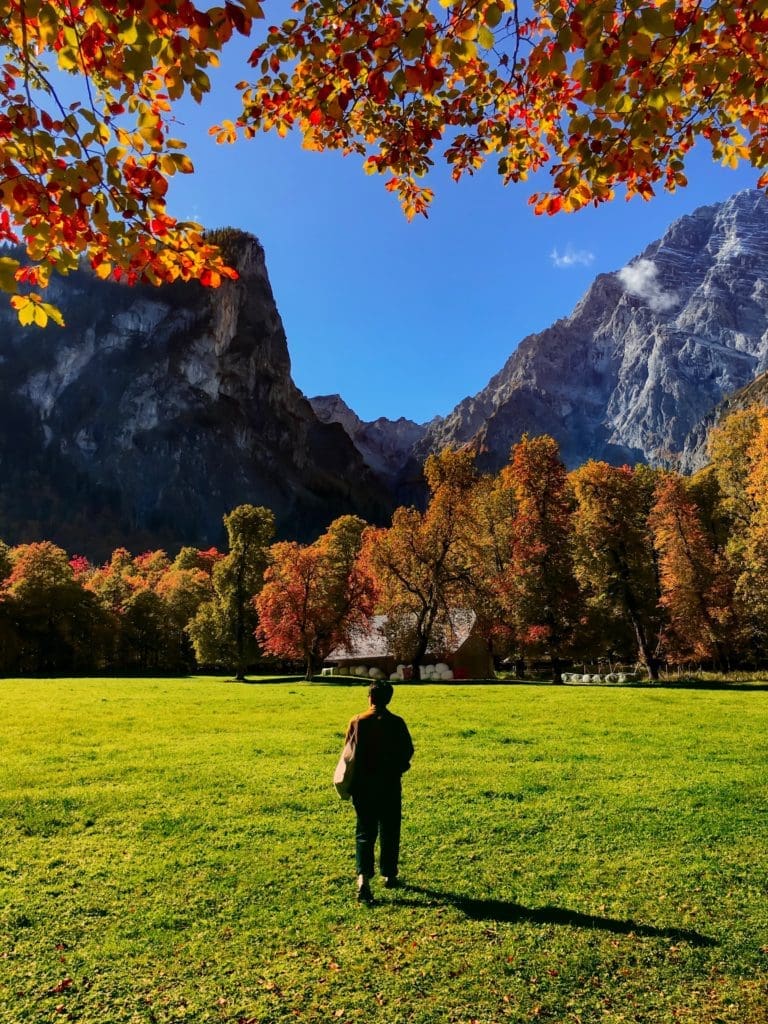 WHAT KIND OF FARMS DO YOU OFFER?
Firstly, farms in Germany are diverse! For instance, placements might include community-supported organic farms that grow vegetables such as beetroot, Swiss chard, carrots, and beans. In addition, some dairy farms keep significant numbers of cows, sheep, goats, donkeys, horses, and pigs. Moreover, these farms oftentimes have small farm shops or even cafés and bakeries, where they sell their products. Others may concentrate on viticulture (winegrowing), beekeeping, or craft brewing. Furthermore, most farms follow the principle of mixed farming and e.g. keep animals even if the main focus is on harvesting plants.
HOW CAN I EXTEND MY STAY IN GERMANY/EUROPE?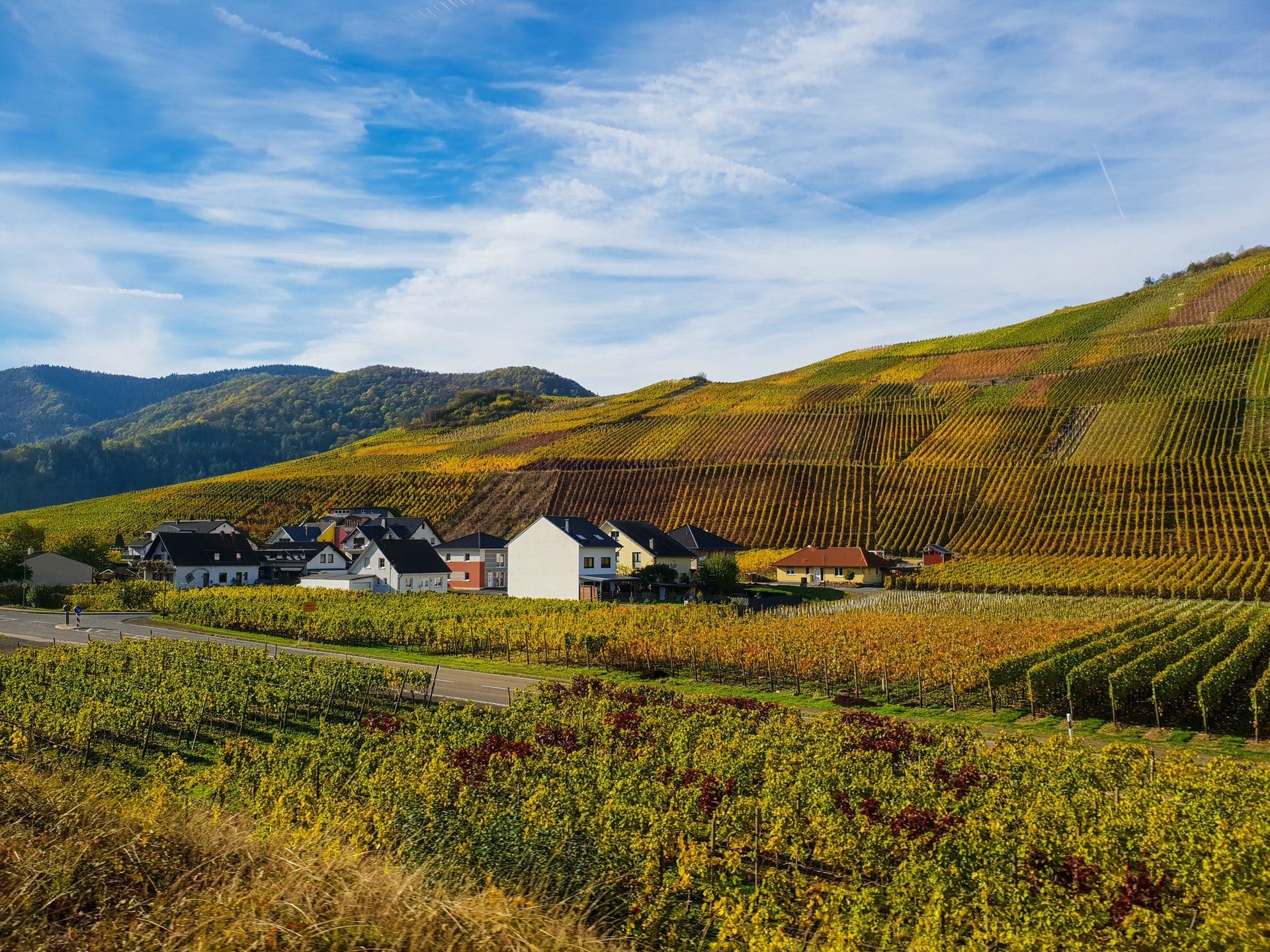 The great advantage of this program is that as a Canadian citizen you are allowed to allowed to work on a German farm visa free for up to 90 days. You are free to choose a shorter duration (minimum 2 weeks) and use the rest of your time in Europe for travel – it is usually very easy to travel within the EU and we are happy to give you tips on how to organize your stay.
If you already know that you want to spend more time abroad, then you can either take part in our Germany Working Holiday Program (for up to 12 months) or do a combination of two of our programs. How about working first on a German farm and then in a British pub?
WHAT WILL THE WORK LOOK LIKE?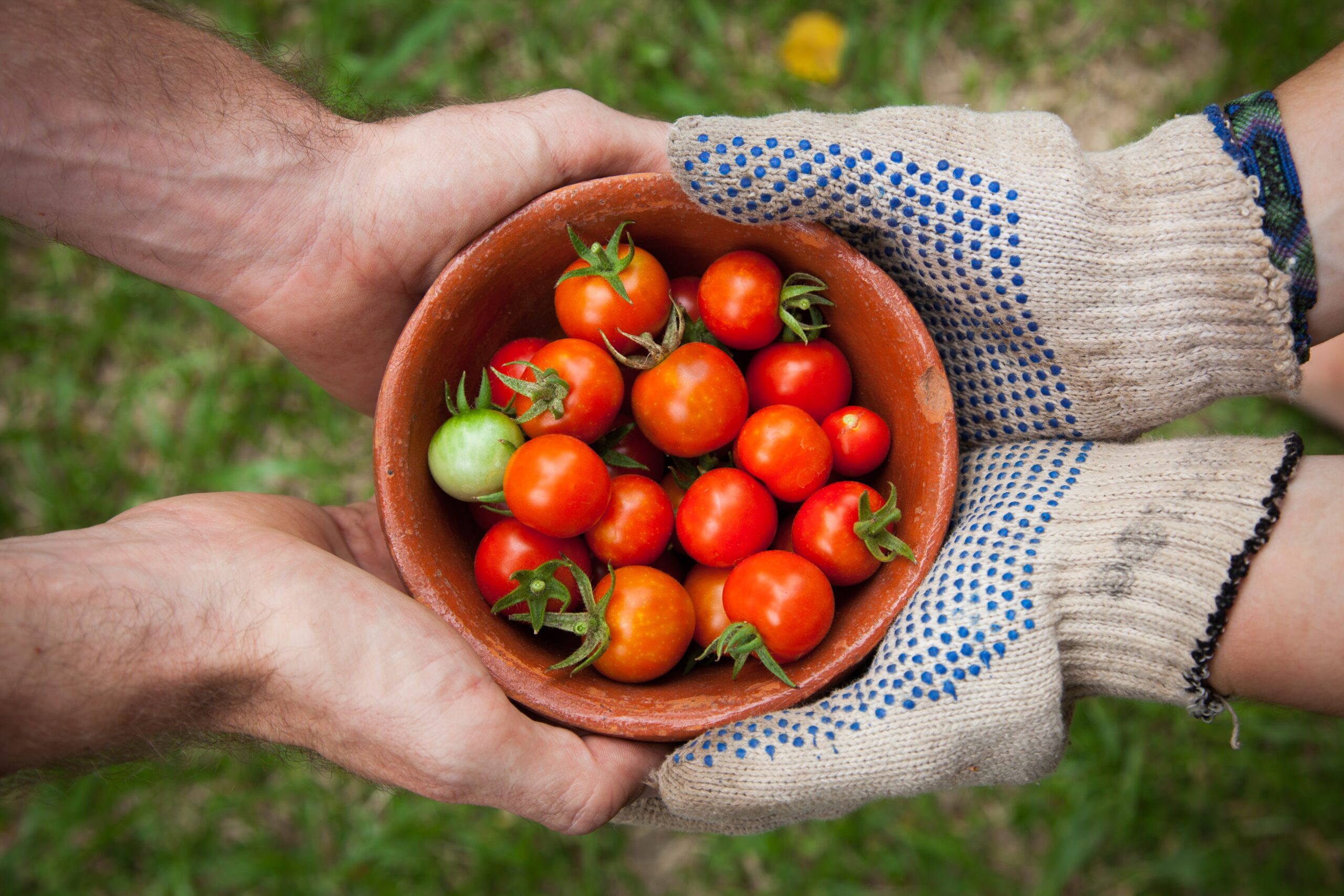 The activities on a farm in Germany are very diverse, depending on what kind of farm you will be placed at and what the daily chores are. In most cases, German farms do mixed farming, which means a combination of keeping animals and growing plants. On a normal day, your tasks might include feeding the animals, cleaning the stables, helping with the harvest, light construction and repair work (e.g. repairing fences). Every day is a little different and you should be flexible enough for various tasks!
WHAT ARE THE WORKING HOURS?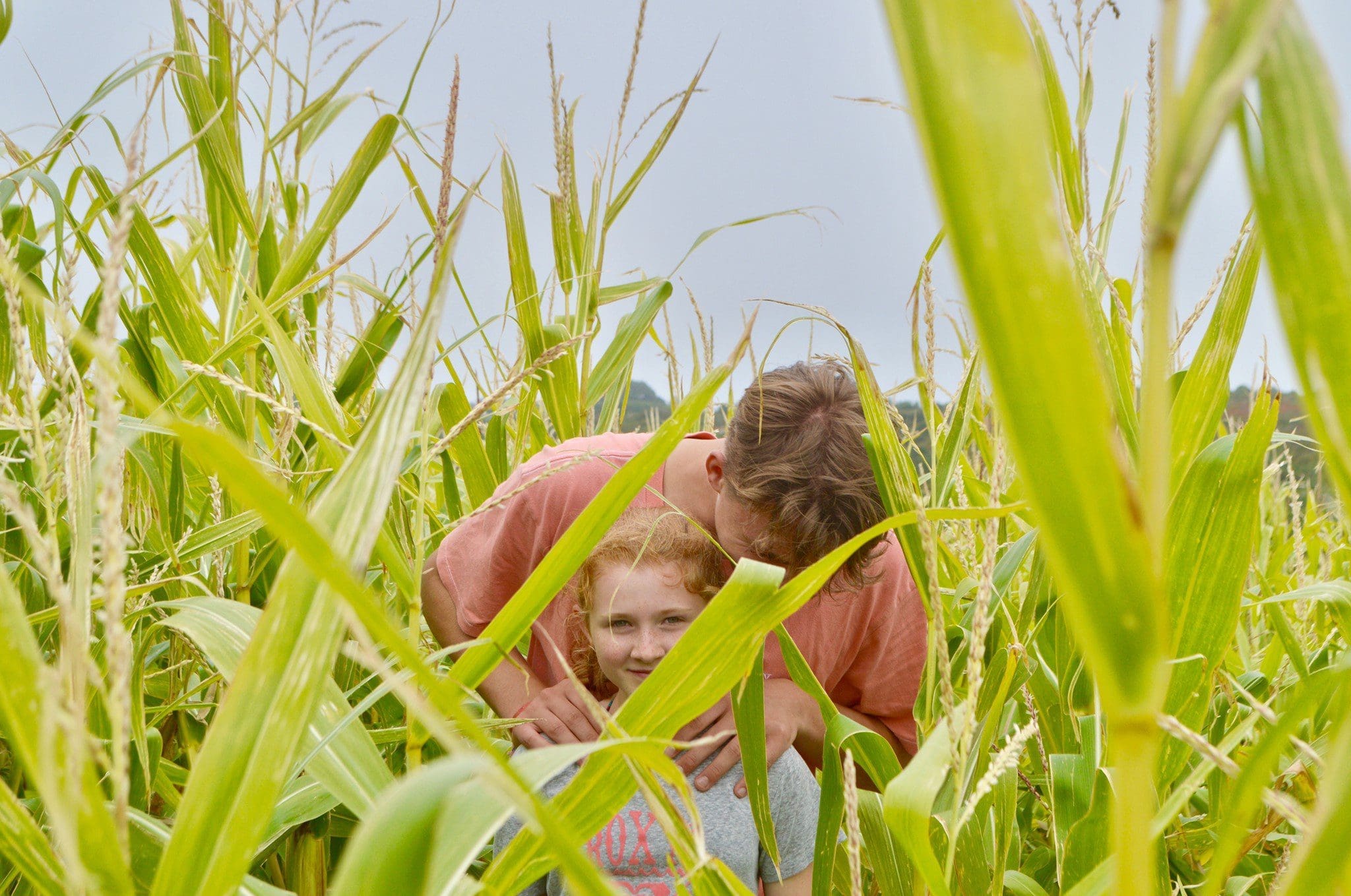 Farm placements are available year-round and all over Germany. You usually work 5-6 days and have 1-2 days off per week (those don't have to be on the weekends). The exact working hours depend on the farm, the season and may vary from week to week. You should be flexible about the exact working hours and prepared for early mornings.
You will be given information and step-by-step instructions on what is needed to work in Germany (for up to 90 days).
If needed, you will receive a visa application guide to apply for the German Working Holiday visa
You will have 12 months of assistance from your GO International Travel Expert
Your guaranteed farm placement will be secured before you arrive in Germany.
The farm work is not remunerated, but you will be provided with free accommodation and free food.
Whether an organic farm, a horse stable, cattle breeding, or vegetable, fruit or viticulture farming – German farms are diverse and carefully screened by our team in Germany!
Preparation Session via Skype; together with further international participants
You will have access to an extensive date knowledge base and contact to our team in Berlin.
A professional supervisor will make sure that you have the best learning outcome during your internship.
24/7 emergency support by English-speaking support team in Germany
Filling out/signing internship contract if needed
Certificate upon completion
What's not included:
Working Holiday visa / tourist visa fees
Airfare
Transport to farm
Travel Insurance
Personal expenses
TO BE ELIGIBLE FOR THE PROGRAM:
Be a Canadian citizen with a VALID Canadian passport for at least 3 months beyond the date you expect to leave
Be between the ages of 18 and 35
Have a clear Police Record
Have intermediate English skills
Have Medical Insurance for the entire duration that you are in Germany
Have enough funds in your bank account to support your trip
TO BE ELIGIBLE FOR THE WORKING HOLIDAY VISA:
You must be a Canadian citizen and resident with a valid CANADIAN PASSPORT (valid for at a minimum of three months past the end date of the visit and issued within the last 10 years).
You must be between the ages of 18 and 35 years (inclusive).
You must be in good health.
You must have a clear Police Record.
You must provide proof of financial resources 3,000 EUR (approx. $4,400 CAD) to provide for any initial expenses at the start of your stay and to allow you to leave the country at any time during your stay in Germany.
You must submit all the documents necessary to support your visa request.
You have not held a Working Holiday Visa (category d) for Germany before.
ROUND TRIP AROUND GERMANY:
Discover the diverse regions of Germany while joining GO International on a field trip around Deutschland!
NORTHERN GERMANY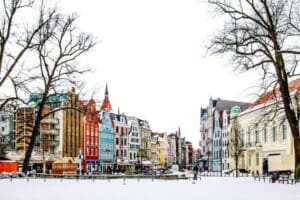 Rostock
Bordering Denmark and the Baltic Sea, Northern Germany consists of beach resorts, bustling cities and medieval towns. It boasts an array of lesser known, yet all the more travel-worthy destinations like the port city Rostock, the bustling metropolis Hamburg and the popular resort islands Stralsund, Helgoland, Rügen and Sylt. Try tasty marzipan in Lübeck or fresh fish all around the coast, visit the famous red-light district in Hamburg or marvel at the splendor of Schwerin castle. Northern German will surely captivate you!
WESTERN GERMANY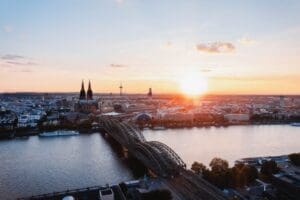 River Rhine, Cologne
West Germany used to be the informal name of the Federal Republic of Germany during the years of separation. Nowadays, Western Germany is well known for its big and busy cities, such as Cologne, Düsseldorf and Frankfurt. However, there is so much more to see than just urban jungle! Visit Trier, the oldest city in the whole of Germany, take in the atmosphere in Marburg, which influenced the famous Brother Grimm tales and relax in one of the recreational Roman Thermal baths in Aachen.
EASTERN GERMANY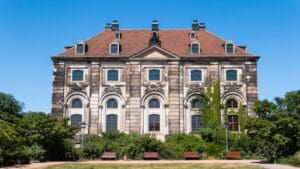 Dresden
Eastern Germany is a cheap trip option within Germany and even though parts of it have been destroyed during the war, it still has so many beautiful destinations to offer. You could stay here the entire duration of your Working Holiday in Germany! From the Saalfeld Fairy Grottoes, to the remarkable Romanesque and half-timber architecture in Saxony-Anhalt to the many of old town centers (Altstadt) in Quedlinburg, Dresden and Bautzen. You should also try dishes unique to East Germany like Königsberger Klopse (German meatballs, covered in a creamy sauce with capers and lemon, and served with boiled potatoes), Spreewald pickles and the various sausages (Mettwurst, Rotwurst, Leberwurst…).
SOUTHERN GERMANY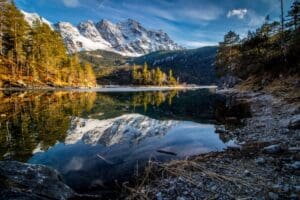 Eibsee, Zugspitze
When you think about Southern Germany, do you think about Oktoberfest, Lederhosen and beer? Most likely! Although Munich is a great starting point for your trip around the south of Germany, this area has so much more to offer! Take a cogwheel train to the highest peak in Germany – the Zugspitze. Walk around the beautiful harbor city of Lindau on the shore of Constance Lake with its colorful storybook houses. Visit the culturally significant University towns of Regensburg, Freiburg or Heidelberg. In addition, when you are already in Southern Germany, it's a quick trip over the border into Austria, Italy or Switzerland!
THE CAPITAL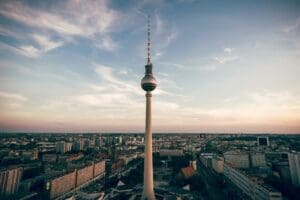 Fernsehturm, Berlin
Once separated by the wall into East and West Berlin, Berlin provides an interesting background to Germany's turbulent history. At the same time, Berlin is also known as being one of the hippest cities in the whole of Europe. It is a melting pot of varied business opportunities, artistic expression, alternative youth culture and many parties! We recommend having a refreshing dip into the water at the Badeschiff, taking a historic city tour into the Underground (Berliner Unterwelten) or visiting the impressive Reichstag building (German Parliament). Start your Working Holiday adventure in the capital of Germany. It will definitely be one of the most diverse places you will surely visit!