Say Yes to Adventure!

Working Holiday in South Korea
Since the 1970s South Korea has experienced tremendous economic growth. Although typical Korean things like Kimchi, Korean BBQ, and K-Pop have become widely known around the world, South Korea still largely remains untouched by mass tourism. Spend your Working Holiday in Korea and you will not only eat delicious food and visit stunning palaces and temples but also make memories that last a lifetime by meeting the friendly Korean people and learning more about their lives and rich East-Asian culture.
LET'S GET STARTED!
Have you ever dreamed of living in South Korea for a longer time, but you don't know how? This is your chance to make your dream come true… and it's easier than you think!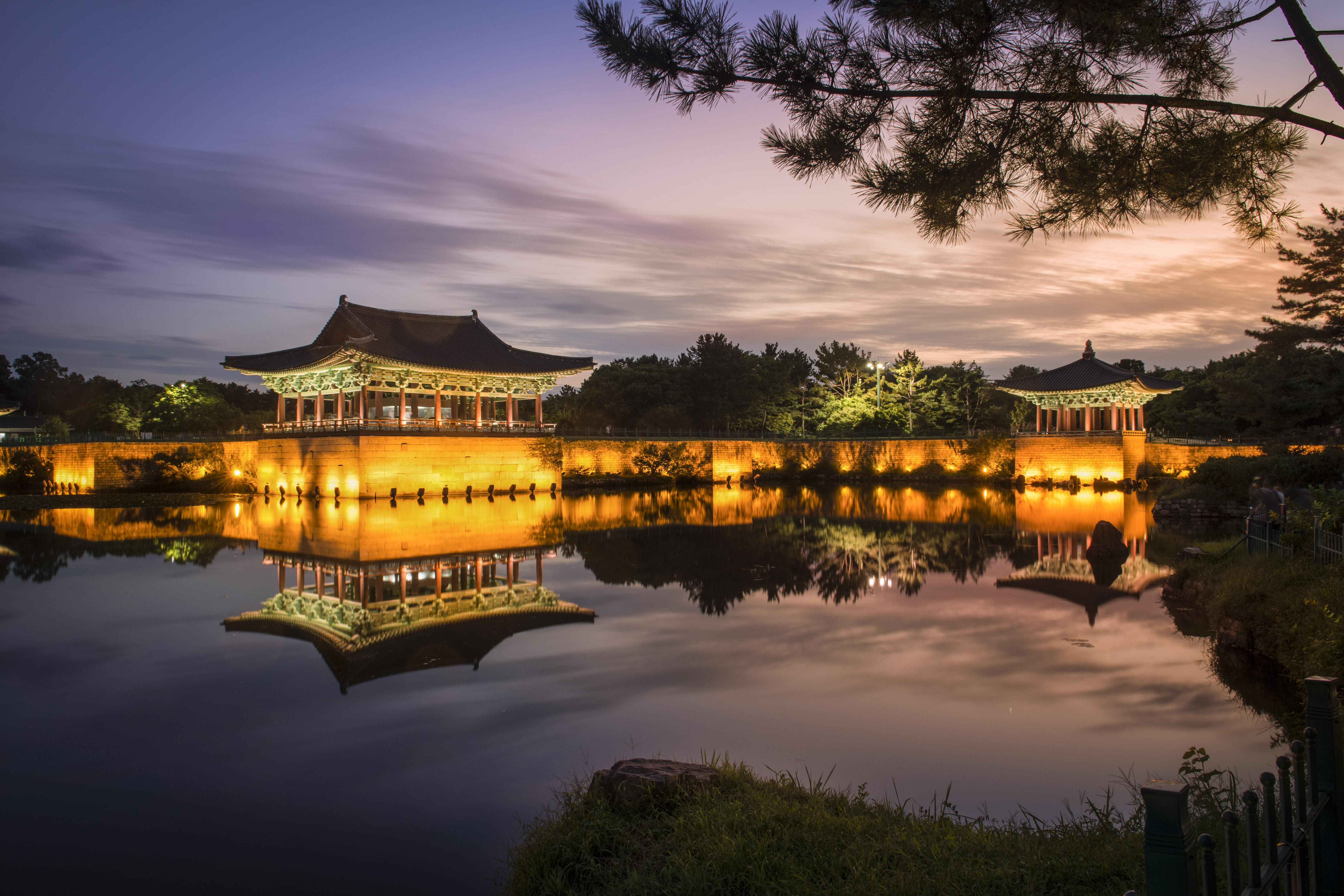 What is a "Working Holiday"?
Known as Working Holiday, Work and Travel or Youth Mobility, this visa provides you with the opportunity to receive a work permit for another country without an employer who sponsors you. Most Working Holiday visas are open work permits and therefore, allow you to apply for any job you are interested in. This gives you the amazing chance to work in a foreign country while travelling and gaining international work experience… without spending all your savings!
What are the advantages of GO International's Korea Program?
South Korea has a very rich culture and special work ethics, which make it an interesting choice as a Working Holiday destination, but also more challenging than the typical English-speaking work abroad country. Thankfully, GO International and its Korean partner will be by your side all the way to create a rewarding and fun experience!
Your GO International Travel Expert will help you decide which program and destination works best for you and support you from the very first moment until you return to Canada.
You will receive assistance in applying for your Working Holiday visa by checking that your application is correct and complete and by answering all your questions.
For a comfortable start to your Working Holiday in Korea, a team member will meet you at the airport in Seoul and walk you to the train station. You will be picked up at the train station in Daegu and accompanied to the share house.
Our program includes 4-week (28 nights)  accommodation in central dorm rooms in Daegu with all amenities provided, such as laundry, wifi, en-suite bathrooms and common areas.
Personal assistance upon arrival, job counselling and preparation for Korean job market.
Partner office in Daegu with bilingual staff to stop by for advice, discounts or simply a chat.
Guest House in Daegu
After a long flight from Canada to South Korea, accompanied by some initial nervousness about your upcoming adventure, you probably just want to sleep off your jet lag. Thankfully, our Working Holiday Program includes 1 month of accommodation in a central guest house in Daegu. The guest house is just a 3-minute walk from the metro station and within walking distance of many bars, clubs, shops, malls and the main shopping street.
The guest house offers dorm rooms (4-8 share) and double rooms that you can book for a small extra fee. All rooms have en-suite bathrooms with toilets and showers, heating and AC. You will be provided with towels, sheets, toilet paper, shower gel, shampoo, toothpaste and hair dryer if needed. Also available will be a communal kitchen, communal area, washing machine for free use including detergent, beautiful rooftop terrace with garden furniture, reception with local staff during the day, WiFi internet and luggage storage.
NEW: Japan & Korea Combo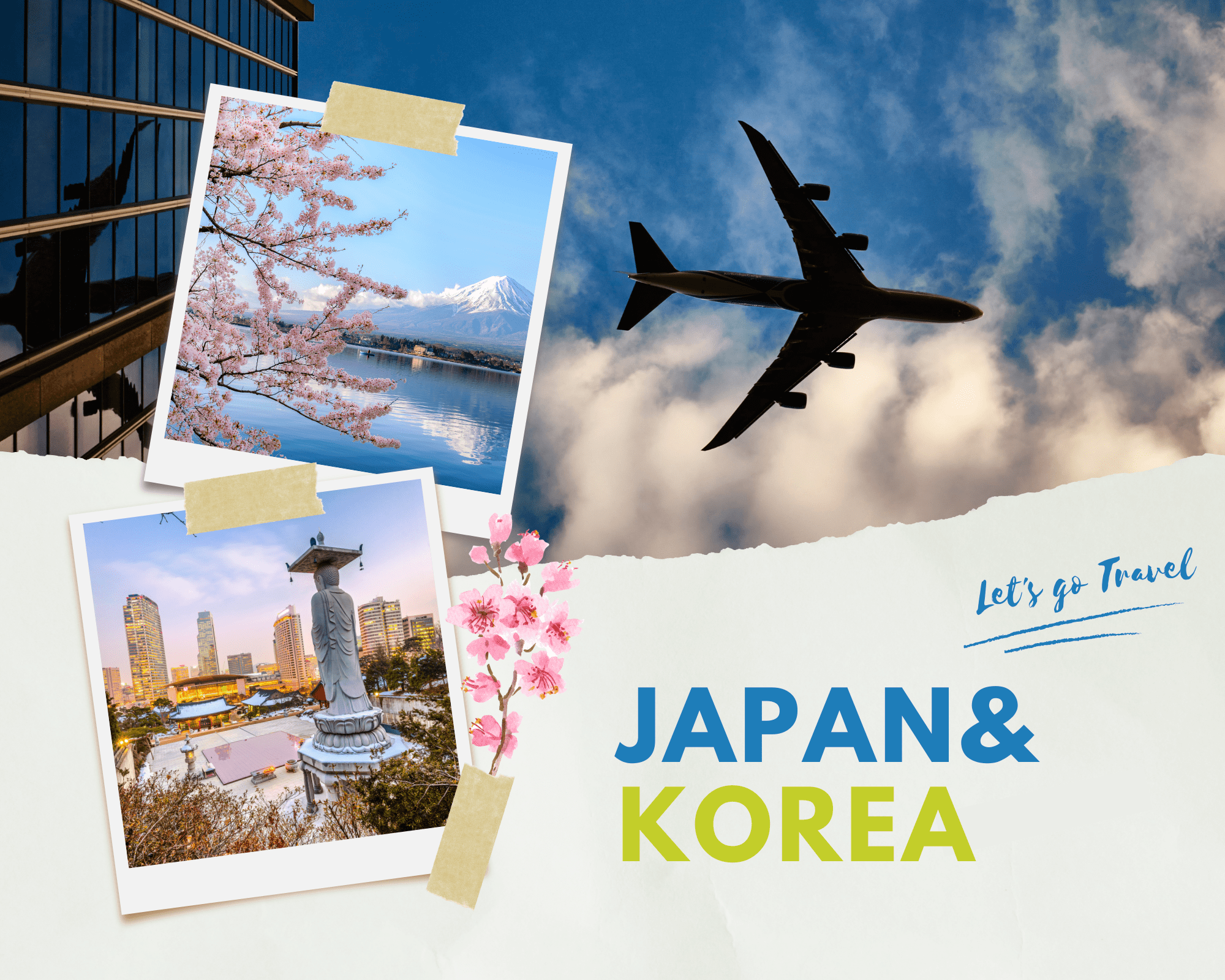 You can't decide if you want to spend your Working Holiday in Japan or Korea? No worries! With GO International's Combo Program you will be able to experience the best of both worlds and save $400 CAD on your program fees!
Other Optional Services
4 weeks of Korean Language Lessons (2 x 90min / week): $220 CAD
4 weeks of Korean Language Lessons (5 x 90min / week): $350 CAD
Upgrade to twin room: $230 CAD
Step-by-step guide on how to apply for your Working Holiday visa and check if your application is complete
Personal support by our GO International travel experts prior to your departure
4 weeks (28 nights) of accommodation in dorm rooms (4-8 share) in guesthouse in Daegu. The rooms have toilets and showers on the floor.
Meet & Greet at Incheon Airport (Seoul) and accompaniment to train station to Daegu.
Pick-up from Daegu rail station and escort to guesthouse.
Personal assistance upon arrival (including Alien Registration Card, resident registration, tax number, registration for public health system, pension fund, pre-paid SIM card, bank account…)
Job Counselling Session about working in Korea (ca. 2 hours) and personal job support
Individual resume preparation and translation for Korean market
Walk-in support in Daegu office and online via Kakaotalk
24/7 emergency number
Bilingual contact person in Daegu (English and Korean)
What's not included:
Airfare and transport within Korea
Korean Language Lessons
Visa fees and cost for application documents
Personal Expenses
Travel Health Insurance (mandatory)
TO BE ELIGIBLE FOR THE PROGRAM:
You must be eligible for the Working-Holiday Visa for Canadian Citizens
TO BE ELIGIBLE FOR THE WORKING HOLIDAY VISA:
You must be a Canadian citizen with a valid CANADIAN PASSPORT (valid for at least 13 months at the time of the application)
You must be between the ages of 18 and 30 years
You must be in good health (proof of physical examination)
You must provide a recent RCMP criminal background check
You must provide proof of financial resources (minimum of $3,000 CAD)
You must book a travel insurance for the full duration of your stay (minimum coverage of $40,000 CAD)
You must submit all the documents necessary to support your visa request in person at a Korean embassy/consulate.
You have not held a Working Holiday Visa for Korea before.
Top 5 Places to Visit in South Korea
SEOUL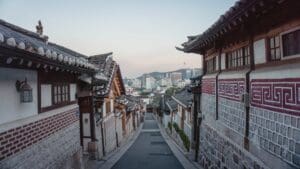 True to its official name "Seoul Special City", Seoul is full of fun surprises and therefore, one of the top city trip destinations in East Asia!
The capital of South Korea is a huge metropolis where modern skyscrapers, high-tech subways and pop culture meet Buddhist temples, impressive palaces, and bustling street markets. Notable attractions include the futuristic Dongdaemun Design Plaza (a convention hall with curved architecture), a sprawling rooftop park named Sky Gardens, the famed Gyeongbokgung Palace, which once had more than 7,000 rooms and Jogyesa Temple, a site of ancient locust and pine trees.
---
GYEONGYU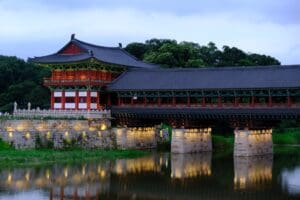 Gyeongju served as ancient capital for the Silla Kingdom for over 1,000 years and is therefore often referred to as "the museum without walls", full of historical wonders. Among the treasures are the Seokguram grotto and Bulguksa temple, both designated as the earliest UNESCO World Heritage sites in South Korea.
With all the cultural and historical richness of the region, Gyeongju is a major tourist destination for both locals and foreign visitors and a fantastic day trip from Busan. For such a rather small area, you will find there more tombs, rock carvings, palace ruins and temples than in any other place in South Korea.
---
JEJU ISLAND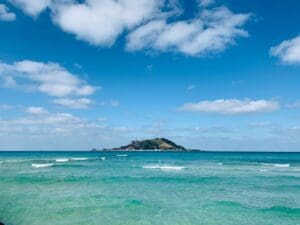 Jeju Island, the largest island in South Korea, located in the Korea Strait, is a picture perfect. It is widely known for its beach resorts and volcanic landscape of craters and cavelike lava tubes. Hallasan Mountain, a dormant volcano, features hiking trails, a blue crater lake at the 1,950m summit and the nearby Gwaneumsa Temple. Visit the 7km-long Geomunoreum Lava Tube System for dramatic views of the dark-colored lava walls and carbonate decorations.
The island is also famous for its haenyeo, female divers who gather abalone (marine snails) and other seafood for up to five hours a day in the cold sea — without scuba gear. You can find the divers' figurines for sale in the Haenyeo museum on Jeju, which all look like Snow White with goggles.
---
ANDONG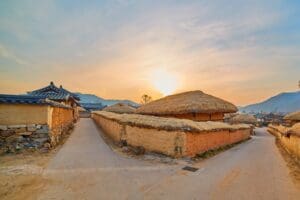 Andong is a charming city along the Nakdong River. It is known for its open-air heritage museums. Andong Folk Museum uses exhibits and re-enactments to explain traditional Korean ceremonies like weddings. Its outdoor area has thatched houses and a pair of carved totem poles. West of the city, Hahoe Folk Village displays tile-roofed homes and the traditional food of the area. Also don't miss out on Buyongdae Cliff, which offers expansive river views and white sand to relax.
Visit Andong if you want to take a stroll around a peaceful and historical village in South Korea, and don't miss out on the traditional "mask performance".
---
JEONJU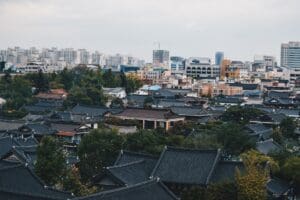 A visit to Jeonju should definitely be on your itinerary for your first trip to East Asia if you want to experience the traditional side of South Korea.
Jeonju literally means "Perfect Region" and is an important tourist center known for its world-renowned food scene and full of culture, history and life. Visit Jeonju Hanok Heritage Village, an area of traditional houses, craft shops and food stalls. In the village, the 15th-century Gyeonggijeon Shrine has portraits of former kings. At the Jeonju Korean Traditional Wine Museum, you can watch a demonstration of how local rice wines are made. Also don't miss out on a visit to Omokdae and Imokdae, which are centuries-old hilltop pavilions with sweeping views.