Life-enriching adventures for memories that last a lifetime!

UK Holiday Resort Program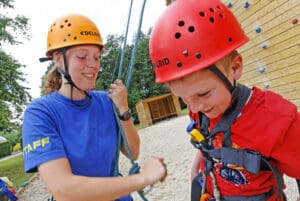 Whether you are looking for a career in the outdoors, a gap year job, a seasonal job or a career break – we have the opportunity for you! Additionally, this program is your chance to meet like-minded people from all over the globe. Additionally, you'll share an unforgettable experience, make lifelong friends, and call a beautiful part of the UK your home.
GO International will provide you with a pre-arranged paid job at a holiday centre in the UK, where you will take care of seasonal campers, work in retail or hospitality or exercise maintenance duties for the resort. Staff housing and meals are offered on-site, and you will have guaranteed free time and holidays. This gives you the chance to travel and explore the UK with your fellow team members!