Embarking on a working holiday in the United Kingdom is an exciting opportunity for Canadians. The UK offers a working holiday visa known as the Tier 5 (Youth Mobility Scheme) visa, allowing young Canadians to work and explore the country for up to two years. In this comprehensive guide, we will walk you through the step-by-step UK working holiday visa process designed specifically for Canadians.
1. Determine Eligibility for the UK Working Holiday Visa
To begin the working holiday visa UK process, ensure that you meet the eligibility criteria for the Tier 5 (Youth Mobility Scheme) visa. As a Canadian applicant, you must:
Be a Canadian citizen residing in Canada
Have a valid Canadian passport
Be between the ages of 18 and 30 (and must not turn 31 before the application)
Have a clean police record
Have an intermediate of higher level of English
Submit a bank statement that certifies you have access to at least £2,530 GBP in available funds
Pay for the National Health Insurance for 2 years
Attend a Biometrics Enrollment Appointment in Canada
Have never previously held a Working Holiday visa for the UK
Have medical insurance for the duration of your entire trip
Not have any dependent children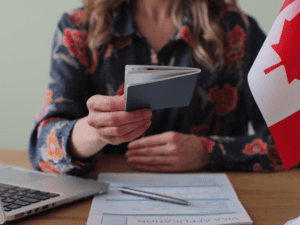 2. Gather Required Documents
As part of the UK working holiday visa process, gather the necessary documents. These include:
A valid passport
Proof of funds that show you have at least £2,530 GBP in available funds
A credit card to pay for the visa application process
Initiate the UK working holiday visa process by submitting your visa application online through the official UK government website. Create an account and provide accurate personal details, travel history, and other relevant information. It is very important to read each question and answer carefully as one mistake could lead to an application rejection.
Go International can provide assistance with visa applications and make sure all the forms are filled out properly and correctly.
Before progressing with your Youth Mobility Visa application, it is necessary to make the payment for NHS. In this case, the UK government requires payment for the entire duration of the visa, regardless of whether you utilize the healthcare services or not. This means you must pay upfront for two years, amounting to approximately $1,000 CAD. When viewed on a monthly basis, the cost comes down to around $42 per month. The precise amount of your NHS payment can be found through this questionnaire.
Your application fee for the UK Youth Mobility Visa will amount to about $420 CAD. Always double check to make sure your application has been filled out correctly as you cannot make any changes once the fee is paid.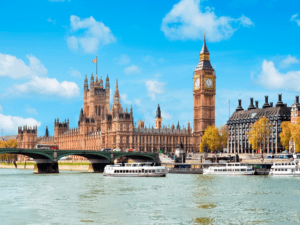 5. Book an In-person Appointment at a Visa Application Centre (VAC)
The next step is to book an appointment at a Visa Application Centre (VAC) to provide your biometric information (fingerprints and photograph). There will be a charge of $100 for each appointment. You can book your appointment here. Canada has several application centres:
Edmonton, AB
Halifax, NS
Ottawa, ON
John's, NL
Toronto, ON
Vancouver, BC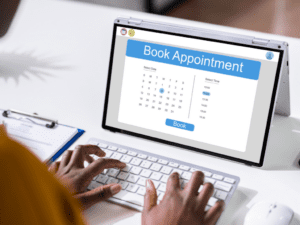 6. Attend the Appointment for the UK Working Holiday Visa Process
Attend your scheduled appointment at the VAC ensuring you are early or on time. Bring your appointment confirmation, Canadian passport, and all supporting documents. Your biometrics, that is your biological and physical characteristics (ie. retina scans and fingerprints) will be taken.
After your appointment, the UK Visas and Immigration will process your working holiday visa application. Keep in mind that processing times may vary, usually taking about 3 weeks. You can check the current processing times on the official UK government website.
Once a decision has been made on your visa application, you will receive an email notification. If your UK working holiday visa is approved, collect your passport from the VAC and you will have your UK Youth Mobility Visa. In case of a visa denial, the email will provide details of the decision and any appeal options available in the UK working holiday visa process.
With your approved UK working holiday visa, you can enter the country within the specified validity period, that is, 1 year. Ensure that you have all the necessary documents, including your Canadian passport and visa approval letter, when you travel. Don't forget to collect your biometric residence permit (BRP) within the first 10 days of your arrival as it is essential for your stay in the UK.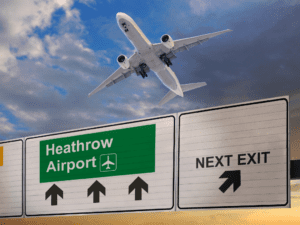 10. Start Working and Enjoy Your Stay in the UK
Congratulations! You are now ready to begin your working holiday adventure in the UK. Utilizing the Tier 5 (Youth Mobility Scheme) visa, you can work and live in the country for up to two years. Make the most of this opportunity, explore the diverse landscapes, immerse yourself in the culture, and create unforgettable memories during your working holiday experience in the United Kingdom.
Unsure how to get your stay set up in the new country? We can assist you with job placement, accommodation search, and setting up a bank account to facilitate a smooth transition from Canada to the UK.  Whether it be our UK Pub Programs or our UK Holiday Resort Program, it will be a time in your life rich with new experiences and new friendships!