Hallo und Willkommen to Germany.

Work and Travel in the country of poets and thinkers!
There is so much more to discover about Germany than just beer, pretzels and soccer.
Live in a fairy tale in the land of medieval castles, colorful half-timber houses and constant festivals and feasts! Your working holiday in Germany will surely awaken your inner adventurer (Abenteurer)!
Why live and work in Germany?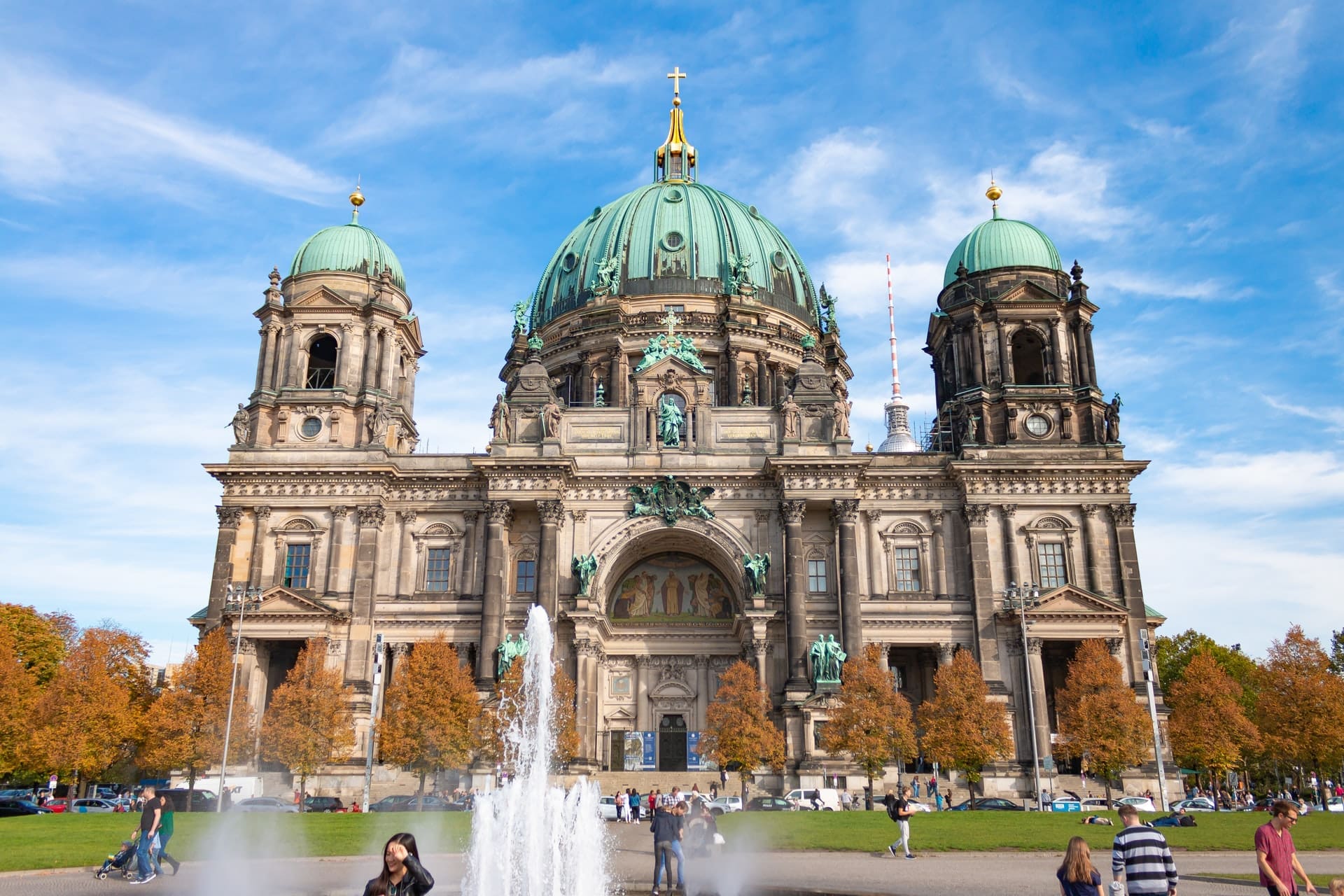 Located in the heart of Europe, Germany consists of 16 states and is widely known for its rich and interesting culture and history.
Nowadays, Germany remains one of the most popular destinations for travelers from around the world. It attracts tourists and young backpackers with its colorful architecture, consisting of old-fashioned castles, monuments and cathedrals, its scenic forest and mountain landscapes and last but not least, its delicious food and drink options, served in traditional beer gardens (Biergarten), breweries (Brauhaus) and modern street food eateries (Imbiss).
Tip: Travel to Germany for one of the fun festivals: the famous Oktoberfest, the vibrant Carnival of Cologne and the charming Nuremberg Christmas Market. You will find unique events year-round!
How does it work?
Whether you are planning on teaching the English language to eager locals, selling tasty pretzels in a German bakery or even becoming a ski instructor on the picturesque slopes of the Alps… let us help you get a running start to your Working Holiday adventure in Germany!
You will be given step-by-step instructions on how to apply for your Working Holiday visa (why spend hours trying to figure out how to apply when we've already done it for you?).
We will help you navigate the bureaucratic jungle that is Germany by providing templates and English translations to relevant forms.
Once in Germany, you won't have to worry about where to sleep! Included in our program fee are 2 weeks in a modern studio apartment in Berlin and an official rental agreement necessary for your visa extension (Gold package only).
You will be provided with job assistance, so you can start spending your salary on fun activities in your new home!
Included in our Gold Package is a job placement on a farm at no extra costs.
Join our monthly social activities in Berlin, such as Street Art program, Bar Crawls and Shuffle Board Evenings.
You will be provided with e-mail assistance for a full year and access to a comprehensive database.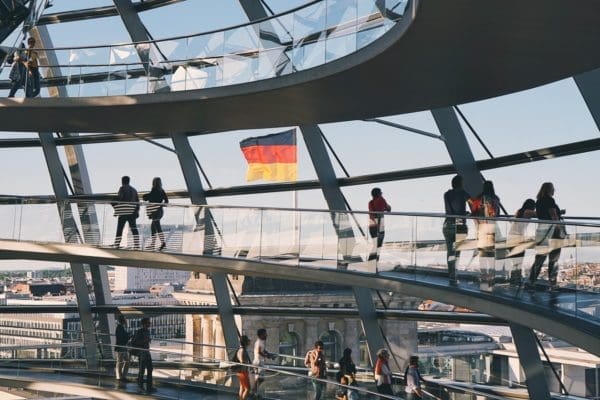 TYPICAL JOBS
Typical working holiday jobs that do not require formal qualifications or previous work experience include:
Hotel and tourism-related jobs: Many cafes, restaurants and bars in bigger cities have international staff. You often don't even need any German language skills.
Childcare, babysitting, seasonal babysitting (for example in summer camps)
Pet care (e.g. walking dogs)
Teaching English and other foreign languages, and providing homework support
Cleaning personnel, e.g. in supermarkets, apartments, offices
Delivery services and moving companies
Salesperson in stores (if German language skills are sufficient)
Factory work e.g. pack, load and unload goods
Farm work (outside of the city, for example harvesting asparagus)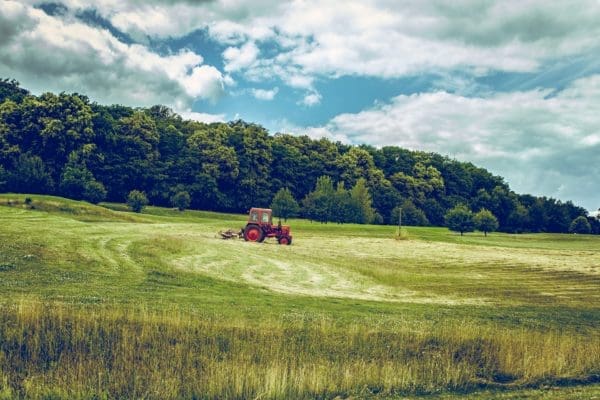 PLACEMENT IN A FARM JOB
Included in your GOLD PACKAGE is a placement in a farm job at no extra costs. You won't receive any payment, but in exchange for your work, you will be provided with free board and lodging. This will give you the chance to venture to the German countryside and experience life and work at an organic farm – whether a horse stable, cattle breeding, vegetable, fruit or viticulture farming. German farms are diverse, available all over Germany and throughout the year!
No German language skills or previous work experience is required. The farmers will teach you what is necessary to work on a farm.
* Are you looking for an agriculture internship or training for your studies? Let us know the requirements from your university and we will arrange it!
German Language Lessons
A lot of Germans, especially young ones, speak fairly good English. Therefore, on a daily basis, for example when going to the grocery store or making friends, you should be fine with just English. However, a lot of parts of Germany are still very traditional when it comes to the workplace and they require you to speak German to be accepted into customer-facing jobs.
Our team in Germany is partnering with a popular language school in Berlin to teach you German.
Intensive Course 4 weeks (3 lessons x 45 minutes per day x 4 days/week = 48 lessons): $290 CAD
Standard Course 8 weeks (3 lessons x 45 minutes per day x 2 days/week = 48 lessons): $330 CAD
Two weeks in a modern high-quality 1-room studio apartment with king-size bed, fully equipped kitchenette with stove, microwave, dishwasher, fridge, coffee machine, kettle, flat TV, and en-suite bathroom with shower (towels provided).
Rental agreement provided by the landlord necessary to make a residence registration.
Appointment for residence registration at the city office and filling of the German forms
Placement in a farm job – available all over Germany (unpaid, but free board and lodging)
Visa support and application guidance
Welcome dinner in Berlin with other international participants
Job hunting advice and listing of job boards and companies
Participation in five monthly socializing events/activities including admission fees in Berlin, with a focus on alternative youth culture
One week unlimited public transport card for Berlin inner city zones A+B
Listing of providers of short to mid-term accommodation that provide the possibility to undertake residence registration
Templates of all relevant forms with translations into English
12 months access to comprehensive mobile phone friendly knowledge base
12 months email support with German partner
What's not included:
Flight tickets and transport within Germany
Personal Expenses
Visa Costs
Travel Insurance (mandatory)
TO BE ELIGIBLE FOR THE WORKING HOLIDAY VISA:
You must be a Canadian citizen and resident with a valid CANADIAN PASSPORT (valid for at a minimum of three months past the end date of the visit and issued within the last 10 years).
You must be between the ages of 18 and 35 years (inclusive).
You must be in good health.
You must have a clear Police Record.
You must provide proof of financial resources 3,000 EUR (approx. $4,400 CAD) to provide for any initial expenses at the start of your stay and to allow you to leave the country at any time during your stay in Germany.
You must submit all the documents necessary to support your visa request.
You have not held a Working Holiday Visa (category d) for Germany before.
VISA APPLICATION:
You are able to apply for the Working Holiday visa 3 months in advance.
It usually takes 2-3 weeks to receive your visa confirmation once you have submitted a complete application.
You are able to apply for your visa in person at the German consulate in Toronto or via mail.
Important: You will only be able to apply via mail when booking our GOLD PACKAGE. When applying via mail, your visa will only be issued for the first 90 days. You will need to apply for an extension at the aliens authority in Berlin. Our partner in Germany will make an appointment for you and fill out all the German forms (Gold package only).
ROUND TRIP AROUND GERMANY:
Discover the diverse regions of Germany while joining GO International on a field trip around Deutschland!
NORTHERN GERMANY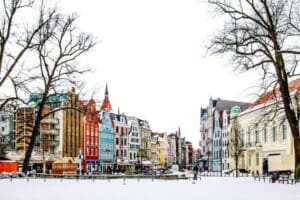 Rostock
Bordering Denmark and the Baltic Sea, Northern Germany consists of beach resorts, bustling cities and medieval towns. It boasts an array of lesser known, yet all the more travel-worthy destinations like the port city Rostock, the bustling metropolis Hamburg and the popular resort islands Stralsund, Helgoland, Rügen and Sylt. Try tasty marzipan in Lübeck or fresh fish all around the coast, visit the famous red-light district in Hamburg or marvel at the splendor of Schwerin castle. Northern German will surely captivate you!
WESTERN GERMANY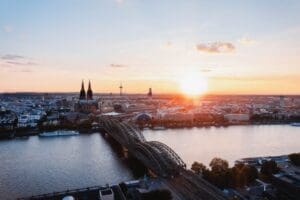 River Rhine, Cologne
West Germany used to be the informal name of the Federal Republic of Germany during the years of separation. Nowadays, Western Germany is well known for its big and busy cities, such as Cologne, Düsseldorf and Frankfurt. However, there is so much more to see than just urban jungle! Visit Trier, the oldest city in the whole of Germany, take in the atmosphere in Marburg, which influenced the famous Brother Grimm tales and relax in one of the recreational Roman Thermal baths in Aachen.
EASTERN GERMANY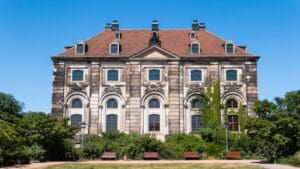 Dresden
Eastern Germany is a cheap trip option within Germany and even though parts of it have been destroyed during the war, it still has so many beautiful destinations to offer. You could stay here the entire duration of your Working Holiday in Germany! From the Saalfeld Fairy Grottoes, to the remarkable Romanesque and half-timber architecture in Saxony-Anhalt to the many of old town centers (Altstadt) in Quedlinburg, Dresden and Bautzen. You should also try dishes unique to East Germany like Königsberger Klopse (German meatballs, covered in a creamy sauce with capers and lemon, and served with boiled potatoes), Spreewald pickles and the various sausages (Mettwurst, Rotwurst, Leberwurst…).
SOUTHERN GERMANY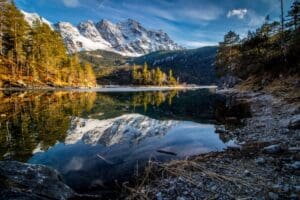 Eibsee, Zugspitze
When you think about Southern Germany, do you think about Oktoberfest, Lederhosen and beer? Most likely! Although Munich is a great starting point for your trip around the south of Germany, this area has so much more to offer! Take a cogwheel train to the highest peak in Germany – the Zugspitze. Walk around the beautiful harbor city of Lindau on the shore of Constance Lake with its colorful storybook houses. Visit the culturally significant University towns of Regensburg, Freiburg or Heidelberg. In addition, when you are already in Southern Germany, it's a quick trip over the border into Austria, Italy or Switzerland!
THE CAPITAL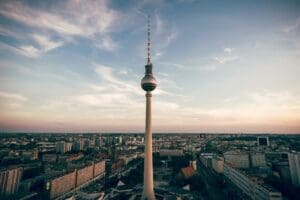 Fernsehturm, Berlin
Once separated by the wall into East and West Berlin, Berlin provides an interesting background to Germany's turbulent history. At the same time, Berlin is also known as being one of the hippest cities in the whole of Europe. It is a melting pot of varied business opportunities, artistic expression, alternative youth culture and many parties! We recommend having a refreshing dip into the water at the Badeschiff, taking a historic city tour into the Underground (Berliner Unterwelten) or visiting the impressive Reichstag building (German Parliament). Start your Working Holiday adventure in the capital of Germany. It will definitely be one of the most diverse places you will surely visit!
In most everyday situations, you will probably get by without using any German. Young Germans especially, have a decent knowledge of the English (or even French) language. In bigger cities, there are international communities of expats and immigrants supporting each other. If you are flexible in your choice of job, you will be able to find a non-German speaking position.
Nevertheless, it is always a good idea to either arrive in Germany with a basic knowledge of the language or you can even book language lessons for the beginning of your stay. After all, learning a foreign language is a fun part of getting to know another culture!
Contact us for more information on our language lessons offered in Berlin.